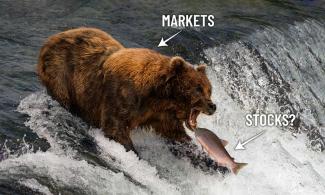 Bear market finally over?
Markets have been hitting some very positive milestones lately, but it's not clear that we're in a bull market yet.1
Is the bear market actually over?
Are the bulls back or are we seeing another "bear market rally" that will eventually lose steam?
Let's discuss.
When stocks are caught between surges and pullbacks, and we're not entirely sure what's going on, it's useful to go back to the fundamentals.
What bullish factors support the rally?
1. Despite all the worrying, it doesn't look like a recession is here yet.2
The labor market is still extremely strong and the housing sector is showing signs of optimism again.
More positive signs of a strong economy will support a rally.
2. Inflation seems to be under control and the Fed has (finally) paused interest rate hikes to see how the economy responds.3
Investors are more likely to stay optimistic if the Fed holds to its plan to limit future rate increases.
3. FOMO. Some of the greedy sentiment behind this rally is due to a legitimate fear of missing out on the next bull market. No one wants to be on the sidelines when markets move.
What bearish factors could kill the rally?
1. The current surge has been largely driven by technology stocks and hasn't broadened across all sectors.4
That means any negative sentiment about these tech high-flyers is likely to have a disproportionate effect on the overall rally.
2. We still can't be certain that a recession won't hit this year and the economy is still facing headwinds that are likely to impact corporate earnings.2
3. Growth may be hard to come by for U.S. businesses.5 Since stock prices reflect the value of their underlying companies, earnings misses or negative surprises could tank sentiment.
Bottom line: For the rally to keep going, investors will not only have to stay positive about technology stocks but also gain confidence in the overall state of the economy.
Here's some good news: Whether or not the bear market is actually, finally over, the overall picture is looking brighter.
In the meantime, if you have any burning questions or concerns, I encourage you to seek answers and guidance. Remember, you don't have to navigate the complexities of finance alone.
Building a solid financial foundation requires having a trusted partner by your side, someone who can offer valuable insights and help you maintain rationality amidst emotional and reactive market conditions. If you're experiencing anxiety or seeking clarity in any aspect of finance, don't hesitate to reach out. I'm here to assist you.
Feel free to contact me. Together, let's navigate the ever-evolving financial landscape and strive for your financial well-being.
Sources
Risk Disclosure: Investing involves risk including the potential loss of principal. No investment strategy can guarantee a profit or protect against loss in periods of declining values. Past performance does not guarantee future results.
This material is for information purposes only and is not intended as an offer or solicitation with respect to the purchase or sale of any security. The content is developed from sources believed to be providing accurate information; no warranty, expressed or implied, is made regarding accuracy, adequacy, completeness, legality, reliability, or usefulness of any information. Consult your financial professional before making any investment decision. For illustrative use only.